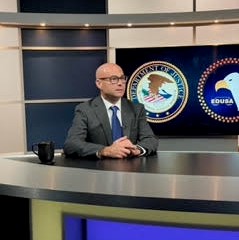 Chris Grollnek
The Nation's Leading Active Shooter Expert (Prevention. Response. Options.)
About Speaker
Principal – Active Shooter Prevention Project, LLC

COO – First Preventers Group, a 501(c)(3)

Former United States Marine – Staff Non-Commissioned Officer

Retired Police Detective Corporal – Patrol | SWAT | Undercover Narcotics



Chris Grollnek is one of the nation's most sought after professionals in the Active Shooter Prevention field. With over 33 years in the study and application of protective measures, Chris brings experience from his time in the Marine Corps, Law Enforcement, and the private sector providing strategic advisory services for the most senior executives in the country.

Following his involvement as a responder in the Active Shooter Event in McKinney, Texas, in 2010, Chris modified the trajectory of his post-graduate degree program and wrote his capstone project on the phenomenon of active shooter events. As one of the first post-graduate degrees of its kind, along with his first-hand experience from inside an event, Chris began contracting with the Department of Homeland Security. During this time, Chris wrote and appeared in a documentary detailing an active shooter incident and survival guidance from the perspective of a person within an event.

As one of the only security professionals in the nation with personal involvement in a domestic terrorism/active shooter event and a Master's Degree in that discipline, the experience Chris brings to his public speaking tour is literally "one of a kind."

While experts across the country focus on responding to active shooters and preventing additional loss of life after an incident has begun, Chris brings first-hand knowledge of how to prevent an incident before it occurs and uses a multi-faceted approach in his training programs that offers comprehensive solutions from a broad spectrum of partners. He recently founded the Active Shooter Prevention Project (ASPP), LLC, where the emphasis is a "human" model vs. a "business" model, providing a community of expert support with the professionals Chris hand-selected to be part of this transformative initiative.

As the Principal and Founder of the ASPP, Chris and his partners are bringing a new National Standard of Active Shooter Prevention to bear. The comprehensive, prevention-focused solutions and services provided by ASPP will be donated through the First Preventers Group, a 501(c)(3), allowing educational institutions, businesses, and places of worship to receive these lifesaving services at no charge.

Chris looks forward to engaging with your community, businesses, schools, and places of worship to provide solutions that will make these environments safer – focusing on how to PREVENT active shooter events from occurring, resulting in a return on investment versus a return on regret.
There are no current or upcoming sessions at this time. Please check back later.